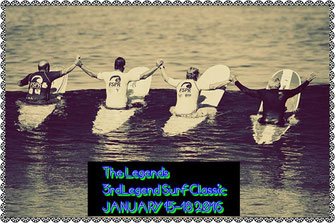 The Third Annual Legend Surf Classic Puerto Rico takes place January 15-18, 2016 in Rincon, Puerto Rico. This years event proudly features several surfing greats. Hawaiian Reno Abellira, whose groundbreaking performance at the 1968 World Contest, set the stage for a new revolution is surfboard design.
Acclaimed waterman Mike Doyle, won the Duke Invitational at Sunset Beach, Hawaii  in 1968, SURFER Poll winner in both '65 and '68, and all around waterman for over fifty years. Charlie Bunger started Bunger Surfboards in the early 60's on Long Island, New York and became instumental in developing the now thriving NY surf community. Dick Catri, considered by many to be "the godfather" of East Coast surfing, honed his skills in Hawaii before settling in Cocoa Beach, Florida. Dick galvanized the local surf community in Cocoa and went on to sponsor many of Florida best surfers including Gary Propper, Bruce Valluzi and Mike Tabeling. Surfer/Filmmaker, Danny Herlihy, started surfing in the  early 60's in Ocean City, Maryland. Danny went on to surf California, Mexico and Hawaii, before literally  discovering the now-famous big wave spot know as Tres Palmas in Rincon Puerto Rico. Danny, along with his good friend, the late Duke Michaels, will be honored at this years' event for being the surfers who not only discovered and named Tres Palmas, but who also discovered and named popular spots like Dogmans, Gas Chambers and BC's.
Introduced by Monty Smith in 2014, The Legend Surf Classic Puerto Rico, embraces its mission to 'promote and celebrate the rich surfing history of Puerto Rico".  This nonprofit event does so by recognizing the original surfers who introduced surfing to Puerto Rico and by acknowledging surf legends from around the world who have made a significant impact on Puerto Rico's growing surf culture. Puerto Rico's surf culture includes many traveling surfers who now call Puerto Rico home, creating, over time, a unique surfing community. During 1969-70, hundreds of traveling surfers came to Puerto Rico, nick-naming Puerto Rico, "Hawaii of the East". Similar to last year's legends, Fred Hemmings and Nat Young, we have again invited surfing legends from around the world. Our hope is to grow this event in anticipation of the 2018 50th  anniversay of the 1968 World Contest, held at Domes, Rincon. The '68 World Contest coincided with the short board revolution where Wayne Lynch took center stage, "blowing minds" with his vertical surfing, along with Hawaiian speed-demon, Reno Abellira, Australian National Champion, Midget Farrelly, and the eventual  winner Fred Hemmings, from Hawaii. Danny Herlihy will be presenting a slideshow of the original photos taken at Tres Palmas. Also, Barry Church, the man responsible for photographing the '68 contest, will be exhibiting his work on site.
The Third Legend Surf Classic Puerto Rico has a 4-day window for the two-day contest, including expression sessions.  The contest entry fee is $70 per division with two divisions costing $100. Contestants will be invited to special Legend activities and each participant will receive goodie bags.  The event includes a gala dinner and an awards ceremony to round out this classic event.
Online contestant entry forms can be found on our website. Visit our website at: www.legendsurfclassicpr.org. Or visit us on Facebook at: FB/legendsurfclassicpuertorico For further information contact Monty Smith at info@legendsurfclassicpr.org or John Ryan at jhamptonryan@yahoo.com for all press inquiries .