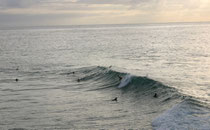 It's December first and the surfing season has hit the west coast of Puerto Rico.  The first swells came in a week before Thanksgiving and we've had a great start to what will be a great winter of surf.  We've started a regular surf report at Swell info for Rincon, we will report from various beaches, Maria's to Sandy, depending on where the best surf is. 
Our Rincon listings have been growing and we're proud to have a new listing in Aguada for Aquatix Sports & Surf Shop.  They offer great prices on board rentals and even offer group discounts.
We also have started a Facebook page and have over 160 friends, look for our postings to see what's going on in the surf communities of Isabela, Aguadilla and Aguada as well as Rincon. 
If you're coming to Puerto Rico and need some advice about where to stay or where to get a surfboard, feel free to contact us with any questions. 
Just a note about the Surfrider Foundation in Rincon; we have a new chair, Jim Crotty, a great surf photographer from Aguada who has contributed to this website, but more importantly brings a vast amount of knowledge and dedication to executing the Surfrider Fundation's mission here in Puerto Rico.  The Rincon chapter is the only Surfrider chapter on the island.  If you would like to get involved meetings are held on the first Thursday of every month at 7:00pm at Club Nautico at the marina in Rincon.
Coming soon to our pages, a dedicated photographer's gallery with great surf shots by Angelo Cordero, Jim Crotty and more. 
Muchas Olas
Jim & CC